Muhammed Kutty, better known by his screen name Mammootty, is a very popular Indian film actor. He has acted in more than three hundred films, most of them in Malayalam cinema. Mammootty is the recipient of three National film awards for Best Actor, six State awards and six Filmfare awards in the "best actor" category. He was awarded the Padma Shri by the Government of India in 1998. Mammootty is also the current Chairman of Malayalam Communications, which runs some of the popular Malayalam TV channels.

Biography

Mammootty was born on September 7, 1953 at Vaikom in Kottayam district of Kerala, India. He has two younger brothers, Ibrahim and Zakariah; and three sisters, Ameena, Sauda and Shafina. He received his education from Maharaja's College, Ernakulam and then studied law at Ernakulam Government Law College. It was during his days at Maharajah's that he got his first role in Anubhavangal Paalichakal (1971). He also practised as a lawyer for some time in Manjeri, Kerala. He married Sulfath in 1981 and has a daughter and a son.


Acting career

His first film as an actor, Devalokam, was not released in theatres. Famous writer and auteur M. T. Vasudevan Nair and Film director K. G. George played an important part in blooming his career.His first film as the hero was played in the movie "Thrishna" directed by the veteran director I.V.Sasi,who had also directed his come back film "Aavanaazhi".His "New Delhi" also played great amount of importance in his life as an actor. His talent was noticed in films like Vilkanundu Swapnangal directed by M T Vasudevan Nair and films like Mela and Yavanika, by K.G George.

One thing that sets Mammootty apart from his contemporaries is the fact that from the beginning itself, he has been able to treat both art-house cinema and commercial potboilers with ease. He made his mark during the early period of his career itself by enacting roles in films of stalwarts like M. T. Vasudevan Nair, K.G. George, Padmarajan, P.N. Menon, and Bharathan. Later on his talent was utilised by internationally renowned directors like Adoor Gopalakrishnan, T. V. Chandran, and Pavithran. He was a regular in movies of Harikumar, Mohan, et al. The movies by M.T. Vasudevan Nair and Padmarajan, arguably among the best of Malayalam writer-directors, widened Mammootty's acting horizon.It was also noticed that the M.T-I.V.Sasi combo had always worked wonders in Mammooty's films.

Two of M.T. Vasudevan's films with autobiographical elements were acted by Mammootty - Aksharangal (I.V. Sasi) and Sukrutham (Harikumar).

The film New Delhi directed by Joshy was a turning point in his career. The film was based on the novel, "The Almighty" by Irving Wallace. His portrayal of a victimized journalist, who systematically took revenge on politicians who beguiled him, was noticed and well accepted well by the masses. By then he had achieved superstardom.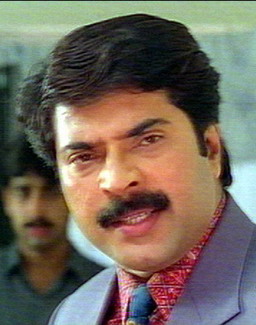 His Oru CBI Diary Kurippu was also a major landmark in the history of Malayalam Cinema. It brought to fore a new concept of an investigative thriller, fresh presentation of politicians and above all a refreshing idea of the hero.The film went on to create box-office history in Kerala.

Following the success of the first CBI film three more murder mysteries sequels were produced with the same cast of characters: Jagratha (1989), Sethurama Iyer CBI (2004) and Nerariyan C.B.I (2005, all directed by K Madhu, with Mammootty as Sethurama Iyer, an intelligent but unassuming CBI officer.

Mammootty touched the pinnacle of his career in Oru Vadakkan Veeragatha (roughly translated as 'A northern heroic folklore'), again an M. T. Vasudevan Nair creation. His depiction of a Chekavan of distinguished valour but vilified by circumstances won him the top honours of the country, National Award for best acting. His histrionics matched the literary genius of M. T. in each and every minute detail.

It was his acting talent, coupled with his willingness to go to any extent to rationally portray the roles, that enabled him to act in both offbeat and commercial movies.

Mammootty became almost a regular face in Adoor Gopalakrishnan's films. He starred in three of his movies, Anantharam('Thenceforth'), Mathilukal('Walls') and Vidheyan ('The Servile'). The easiness with which he illustrated on screen the protagonist in Mathilukkal(based on Mathilukal, a novel by the Malayalam literary genius Vaikom Muhammad Basheer) was also instrumental in getting him his first National Award for Best Actor. His performance in two commercially off-beat movies, Ponthan Mada by TV Chandran, and Adoor Gopalakrishnan's Vidheyan won him the award for the second time. His performance in "Ambedkar", an English movie by Jabbar Patel, won him the National award for a third time. He is also a recipient of Padma Shri, one of the highest civilian awards in India.

Mammootty had briefly crossed the boundaries of Malayalam cinema and acted in Tamil, Telugu and Hindi films. Though he proved only a moderate success in Tamil after Mani Ratnam's Thalapathi, his fan following is on par with other Tamil film stars. His notable successes in Tamil include Anandam by Linguswamy and Kandukondain Kandukondain by Rajiv Menon. However, his maiden Hindi film, Dhartiputra went unnoticed. Mammootty, nonetheless made his presence felt on the national level with the biographical film on Dr. Baba Saheb Ambedkar Directed by Jabbar Patel.

Though he has been criticised as unable to portray comic roles, his latest movies Rajamanikyam,Balram Vs Tharadas, Thommanum Makkalum,Thuruppugulan and Maayavi gave a fitting reply to critics. Mammootty, though a hugely popular star, is an exception in Indian films where dancing skills have to be a necessary part of an actor's repertoire. But the emotion and the depth that he lends to his characters makes him a well revered actor and makes up for his shortcomings.


Trivia

* Mammootty plays hero in real life. Mamootty and Dubai-based businessman M.A. Yusuf Ali met with the officials of the Dubai Internet City (DIC) and finally - the proposed Smart City project at Kochi is now within striking distance of the investment-starved state. This project could potentially bring over 90,000 jobs to Kerala.
* Mammootty met with an accident on 19.02.07 on the sets of Amal Neerad's Big B that could have even cost his life. A dummy bomb used during the shoot exploded sending an iron rod flying towards him. He managed to dodge away in time. The shoot was stopped immediately.
* Mammootty is the only second star after Prem Nazir to complete 300 films as the hero in Malayalam. Mammootty reached this feat as he completed his latest film with Renjith titled Kaiyoppu.
* In malayalam movie history, the first star fan club was started in the name of Mammootty in 1989.
* Mammootty also holds the rare distinction of appearing as hero in an astonishing 35 movies released in a single year, 1986, a feat exceeded only by Prem Nazir who acted in 39 movies as hero released during 1979.
* In what is believed to be the first time in the banking history in south India, Mammootty was appointed as brand ambassador by Kerala-based South Indian Bank on 16 October 2006. The Bank chairman said this was taking into consideration the huge following Mammootty enjoys among the NRIs and his image as a clean, pan-Indian actor.
* He is the Patron of the Pain and Palliative Care Society, a charitable organization in Kerala formed with the aim of improving the quality of life among patients with advanced cancer.
* Akshaya, the prestigious Information Technology dissemination project of the Government of Kerala, has Mammootty as the star campaigner. He formally took over as the Goodwill Ambassador of Akshaya on February 26 at a video networked programme which was linked to all the district headquarters of the state. Mammootty will take up the responsibility of spearheading a campaign by appearing in print and visual media advertisements and other publicity materials that will send the message of Akshaya to the grassroots.
* "Mathilukal (The Walls) has been shown in almost 40 international film festivals beginning with Venice. Among my films, it is Mathilukal which has invited the maximum number of internaional honours. The sincere co-operation by Mammootty, the actor has played a major role in the success of the movie" - Adoor Gopalakrishnan.
* There was a rumour prevailing that the Communist Party of India (Marxist) would field him for one of the three Rajya Sabha seats from Kerala during June 26 elections. Later on the news subsided as Mammootty denied any such possibility. However, Mammootty is known to be close to the CPI-M. He is the chairman of Kairali television channel in which the CPI-M has a high stake.
* He was offered to act as Coca-Cola's brand ambassador/Model in Kerala during March 2004. But, pressure from various quarters, it seems, has prompted the Megastar to give up the ambitious offer. Several environmental groups were calling for the soft drink's boycott.
* He recently published a book Kazhchapadu (perspectives), a compilation of articles he had penned for a column in the largest ciruclated Malayalam newspaper Malayala Manorama. M.T.Vasudevan Nair the doyen of Malayalam writers and a personal friend of Mammootty released the book published by Current Books, Trichur to C.V. Sreeraman.
* His remarks during the 2006 IIFA Awards ceremony held at Dubai had gained a lot of media and public attention. He openly criticised the organisers of the IIFA awards for completely ignoring South Indian films. Mammootty suggested that the Bollywood film industry stand up to competition from the South Indian film industry before calling itself international. Take into account that South Indians have won 14 out of 26 National Film Awards over that many years (Mammootty has himself won it thrice, Amitabh Bachchan twice, Shahrukh Khan never!) and that a significant number of Hindi films are remakes of successful South Indian films — Telugu, Tamil, and Malayalam. And these include all old record-breaking Telugu and Tamil remakes. He boldly made comments like, Indian cinema is not just Bollywood, and Hindi is not the only language. Why should our films be called South Indian cinema instead of being under the banner of Indian films?

Awards and honours
National Awards

* 1989 Oru Vadakkan Veeragatha, Mathilukal (Actor)
* 1993 Vidheyan, Ponthanmada (Actor)
* 1998 Dr. Ambedkar (Actor)

State Awards

* 1981 Ahimsa (Supporting Actor)
* 1984 Adiyozhukkukal (Actor)
* 1985 Yathra, Nirakkoottu (Special Award)
* 1989 Oru Vadakkan Veeragadha, Mahayaanam, Mrigaya (Actor)
* 1993 Valsalyam, Vidheyan,Ponthanmada (Actor)
* 2004 Kazhcha (Actor)

Filmfare Awards

* 1984 Adiyozhukkukal
* 1985 Yathra, Nirakkoottu
* 1990 Mathilukal
* 1991 Amaram
* 1997 Boothakannadi
* 2001 Arayannangalude Veedu
* 2004 Kazhcha (Actor)

Film critics

* 1982 Yavanika (Supporting Actor)
* 1984 Aksharangal, Kanamarayathu
* 1985 Yathra, Nirakkoottu
* 1987 Thaniyavarthanam, New Delhi
* 1989 Mathilukal, Mrigaya, Oru Vadakkan Veeragadha
* 1992 Sooryamanasam, Aayirappara, Pappayudey Swantham Appose
* 1994 Sukritham
* 1997 Boothakannadi (Special Award)
* 2004 Chalachitra Ratnam
* 2006 Karutha Pakshikal

Vanitha Awards

* 2004 Best Actor Kazhcha
* 2005 BoxOfficeHero
* 2006 Best Actor Karutthapakshikal & Kaiyyopu

Other awards

* V. Shantaram Award (Movie : Dr. Ambedkar)
* Asia Pacific Merlian Award
* Cinema Express (Various Movies, years)
* Ramu Karyat Award
* Screen Award
* Asianet Film Awards
* Mathrubhumi Award
* FOCCANA Award (USA)
* Amritha Channel Award Kazhcha 2004
* Jesey Foundation Award
* Everest Malayalam Ever Best Actor Award.

Malayalam

In Production

No. Year Title Role Direction
001 2007 Pazhassi Raja Pazhassi Raja Hariharan
002 2007 Mission 90 Days Major Sivaram Major Ravi
003 2007 Ore Kadal Dr. S.R. Nathan Syama Prasad
004 2007 Vandematram/Aruvadai Gopalakrishnan D. Arvind

Movies in 2000s

No. Year Title Role Direction
001 2007 Big B Bilal John Kurushinkal Amal Neerad
002 2007 Mayavi Mahi Shafi
003 2007 Kaiyyoppu Balachandran Renjith
004 2006 Palunku Monichan Blessy
005 2006 Karutha Pakshikal Murugan Kamal
006 2006 Pothen Vava Pothen Vava Joshy
007 2006 Bhargava- charitham 3-am Khandam Current Bharghavan Joemon
008 2006 Prajapathi Renjith
009 2006 Balaram vs Taradas Balaram,Taradas I.V. Sasi
010 2006 Thuruppu Gulan Gulan Kunjumon Johny Antony
011 2005 Bus Conductor Zakir Hussain (Kunjacka) V.M. Vinu
012 2005 Rajamanikyam Bellary Raja Anwar Rasheed
013 2005 Nerariyan CBI Sethuramayyar K. Madhu
014 2005 Rappakal Krishnan Kamal
015 2005 Thaskara Veeran Arakkal Baby Pramod Pappan
016 2005 Thommanum Makkalum Sivan Shafi
017 2004 Vesham Appu V.M. Vinu
018 2004 Black Karikkamuri Shanmukhan Renjith
019 2004 Kaazhcha Madhavan Blessy
020 2004 Aparichithan Raghuram Sanjiv Sivan
021 2004 Vajram Devarajan Pramod Pappan
022 2004 Sethuramayyar CBI Sethuramayyar K. Madhu
023 2003 Pattalam Pattabhi Raman Lal Jose
024 2003 Chronic Bachelor Sathyaprathapan Siddique
025 2002 Danny Danniel Thomson T. V. Chandran
026 2002 Kaiyethum Doorath Gopinathan Fazil
027 2002 Phantom Paily Biju Varkey
028 2002 Dubai Ravi Mamman Joshy
029 2002 Rakshasa Rajavu Ramanadhan Vinayan
030 2002 Dada Sahib Dada Sahib/Abubacker Vinayan
031 2000 Vallyettan Arackal Madhavanunni Shaji Kailas
032 2000 Narasimham Nandagopala Marar Shaji Kailas
033 2000 Arayannegalude Veedu Ravindranath Lohithadas

Movies in 1990'S

Year Film Role
1999 Ethirum Puthirum Major
1999 Ezhupunna Tharakan Sunny Tharakan
1999 The Godman Inspector Amarnath
1999 Megham Colonel Ravivarma Thampuran
1999 Pallavur Devanarayanan Devanarayanan
1999 Prempujari
1999 Stalin Sivadas Sivadas
1999 Thachiledathu Chundan Kochu Kunju
1998 The Truth Bharath Patteri
1998 Elavamkodu Desam Jathavethan
1998 Harikrishnans Harikrishnan
1998 Marumalarchi Rasu Padayachi
1998 Oru Maravathoor Kanavu Chaandy
1998 Railway Coolie
1998 Sidhartha Sidharthan
1997 Bhoothakkannadi Vidyadharan
1997 Arasiyal Politician
1997 Kaliyoonjal Nandagopalan
1997 Oral Mathram Hareendran
1997 Puthayal Captain Viswanath
1996 Udyanapalakan Sudhakaran Nair
1996 Indra Prastham Sathish Menon
1996 Aayiram Naavulla Ananthan Dr. Anantha Padmanabhan
1996 Hitler Madhavan Kutty
1996 Azhakiya Ravanan Sankhar das
1996 Suryaputrulu
1995 Makkal Aatchi Sethupathi
1995 The King Thevalliparambil Joseph Alex
1995 Ormmakalalundayirikanam Tailor Bhaskaran (Bhasi)
1995 No: 1 Sneha Theeram Bangalore North Vijaya Bhasker
1995 Oru Abibhashakante Case Diary Aniyan Kuruvila
1995 Mazhayethum Munpe Nandakumar Varma
1994 Sukrutham Ravishekar (Journalist)
1994 Saagaram Sakshi Balachandran
1994 Vishnu Vishnu
1994 Ponthan Maada Maada
1994 Vidheyan Bhaskar Patelar
1993 Golanthara Vartha Ramesan Nair
1993 Padheyam Chandra Das (Poet & Writer)
1993 Kilipetchu Ketkava Chidambaram (School Master)
1993 Sainyam Captain Eswar
1993 Dhartiputra Kapil Dev Singh
1993 Jackpot Gautham Krishna (Jockey)
1993 Vatsalyam Meledath Raghvan Nair
1993 Aayirappara Sowri
1993 Dhruvam Narasimha Mannadiyar
1992 Swathi Kiranam Anantha Rama Sharma
1992 Pappayude Swantham Appoos Balachanran
1992 Kizhakkan Pathrose Pathrose
1992 Mahanagaram Viswanathan
1992 Johnnie Walker John Varghese
1992 Soorya Manasam Putturumees (a Mentally Retarded Person)
1992 Kauravar Antony
1991 Azhakan Azhakappan
1991 Neelagiri Sivankutty
1991 Thalapathi Devaraj
1991 Anaswaram Daniel D'Souza
1991 Kanalkkattu 'Nathu' Narayanan
1991 Adayalam Captain Hariharan
1991 Inspector Balram Inspector Balram
1991 Nayam Vekthamakkunnu Sukumaran (Political Leader)
1991 Amaram Achootty (Achuthan Kutty)
1990 Parampara Lawrence/Johny
1990 No:20 Madras Mail Mammootty
1990 Ee Thanutha Veluppan Kalathu Haridas Damodaran (Superintendent (police))
1990 Kuttettan Vishnu
1990 Iyer the Great Soorya Narayana Iyer
1990 Oliyampukal Arackal Baby Mathew
1990 Kalikkalam Shankar/Antony/Tony Louis/Gauthaman/Pappan/Vasudevan/Ramakrishnan
1990 Samrajyam Alexander
1990 Mathilukal Basheer
1990 Midhya Venugopal
1990 Kottayam Kunjachan Kunjachan
1990 Purappadu Viswanathan
1990 Thriyathri Estate Owner

Movies in 1980'S
Year Film Role
1989 Mrigaya Varunni
1989 Mahayanam Chandran
1989 Nair Saab Captain Ravindran Nair
1989 Jagratha Sethuramayyar
1989 Artham Ben Narendran
1989 Carnival Bharathan
1989 Adharvam Anantha Padmanabhan
1989 Utharam Balu
1989 Oru Vadakkan Veeragatha Chanthu Chekavar
1989 Adikkurippu Advocate Bhaskara Pillai
1989 Mudra Ramabhadran
1989 Charithram Philipose Manavalan (Thampi)
1989 Mounam Sammadham Advocate
1988 Sanghnadam Chandran
1988 Mukthi Hari Das (District Collector)
1988 Thanthram Advocate George Korah Vettickal
1988 1921 Khadir
1988 Mattoral Balan
1988 August 1 Perumal (DSP)
1988 Sankham Kuttappai
1988 Abkari Vasu
1988 Oru CBI Diary Kurippu Sethuramayyar
1988 Dinarathrangal Aravindan
1988 Vicharana Sethumadhavan
1988 Manu Uncle Manu Uncle
1987 Nalkkavala Babu
1987 Anantharam Dr. Balu
1987 Aankiliyude Tharattu Haridas
1987 Manivathoorile Aayiram Sivarathrikal Dr. Vinayachandran
1987 Thaniyavarthanam Balan Maruthempilly (Bala Gopalan)
1987 New Delhi G.Krishnamoorthy
1987 Kalam Mari Katha Mari Kamaruddeen
1987 Athinumappuram Ravindran

* Adimakal Udamakal (1987) .... Raghavan (Comrade)
* Nombarathi Poovu (1987) .... Dr. Padmanabhan
* Ithrayum Kalam (1987) .... Varghese
* Sreedharante Onnam Thirumurivu (1987) .... Sreedharan
* Oru Sindoora Pottinte Ormaykku (1987) .... Roy
* Kathakku Pinnil (1987) .... Thampi (Dramatist)
* Kottum Kuravayum (1987) .... Damu
* Ennu Nathante Nimmi (1986) .... Mahesh
* Rareeram (1986) .... Nanda Kumar
* Kochu Themmadi (1986) .... Sekharan Master
* Aval Kathirunnu Avanum (1986) .... Gopinath
* Rakkuyilin Rajassadasil (1986) .... Viswanathan (Musician)
* Sayam Sandhya (1986) .... Sivaprasad
* Padayani (1986) .... Sudhakaran
* Pranamam (1986) .... Prathapan (Dy.s.p.)
* Geetham (1986) .... Yatheendran
* Veendum (1986) .... Vijaya Chandran
* Ee Kaikalil (1986) .... Sultan Abdul Razak
* Nyayavidhi (1986) .... Paramli
* Aavanazhi (1986) .... Balram (Circle Inspector)
* Poovinnu Puthiya Poonthennal (1986) .... Kiran (Business Man)
* Ice Cream (1986) .... Thampi
* Aayiram Kannukal (1986) .... Dr. Sam
* Moonnu Masangalkku Munpu (1986) .... Dr. Rajasekhran
* Nandi Veendum Varika (1986) .... Mohandas C. K.
* Gandhinagar 2nd Street (1986) .... Balachandran (Guest Role)
* Adukkan Entheluppam (1986) .... Srinivasan Nair
* Snehamulla Simham (1986) .... Vysakhan (Writer-College Lecturer)
* Kaveri (1986) .... Dr. Hari
* Neram Pularumbol (1986) .... Brother Lawrence
* Poomukhappadiyil Ninneyum Kathu (1986) .... Isacc Peter
* Arappatta Kettiya Gramathil (1986) .... Zacharia
* Prathyekam Sradhikuka (1986) .... Suresh
* Kshamichu Ennoru Vakku (1986) .... Adv. Ravindranath
* Malarum Kiliyum (1986) .... Balachandran
* Kariyila Kattu Pole (1986) .... Harikrishnan
* Vartha (1986) .... Madhavan Kutty
* Aalorungi Arangorungi (1986) .... Rajan (Sun-Inspector)
* Mazha Peyyunnu Maddalam Kottunnu (1986) .... (Guest Role)
* Ithile Iniyum Varu (1986) .... Aravindan
* Shyama (1986) .... Viswanathan (Film Director)
* Oru Katha Oru Nunnakkatha (1986) .... Prof. Mohandas
* Akalathe Ambili (1985) .... Ajayan
* Kandu Kandarinju (1985) .... Sreedharan
* Kathodu Kathoram (1985) .... Louis
* Upaharam (1985) .... Dr. Jeevan Thomas
* Karimbin Poovinakkare (1985) .... Sivan
* Aa Neram Alppa Dooram (1985) .... Jameskutty
* Puli Varunne Puli (1985) .... Jayaraman
* Vilichu Vilikettu (1985) .... Vijayan
* Kanathaya Penkutty (1985) .... Rajmohan
* Ee Lokam Ivide Kure Manushyar (1985) .... Ummer
* Yathra (1985) .... Unnikrishnan
* Nirakkoottu (1985) .... Ravi Varm
* Idanilangal (1985) .... Vijayan
* Iniyum Katha Thudarum (1985) .... Ravindran
* Puzhayozhukum Vazhi (1985) .... Gopalan
* Ente Kanakkuyil (1985) .... Mohan Kumar
* Angadikkappurath (1985) .... Jose
* Ayanam (1985) .... Johny
* Oru Nokku Kanan (1985) .... Jayadevan
* Onningu Vannengil (1985) .... Mohan Das
* Manya Mahajanangale (1985) .... Devan
* Oru Sandesam Koodi (1985) .... Vijayan
* Katha Ithu Vare (1985) .... Balachandran
* Ee Sabdam Innathe Sabdam (1985) .... Dr. Ramachandran
* Anubandham (1985) .... Muraleedharan Master)
* Oduvil Kittiya Vartha (1985) .... Gopalan Kutty
* Makan Ente Makan (1985) .... Prakasan
* Thammil Thammil (1985) .... Dr. Rajagopal
* Eeran Sandhya (1985) .... Madhavan
* Avidathepole Ivideyum (1985) .... Anirudhan
* Ee Thanalil Ithiri Neram (1985) .... Vijayan
* Muhurtham Pathnonnu Muppathinu (1985) .... Dr. M. K. Haridas
* Parayanumvayya Parayathirikkanumvayya (1985) .... Sreekumar (Sub-Inspector)
* Thinkalazhcha Nalla Divasam (1985) .... Gopan
* Kodathi (1984) .... Rajendran
* Aalkkodttathil Thaniye (1984) .... Rajan
* Aarorumariyathe (1984) .... P. G. Venugopal
* Aattuvanchi Ulanjappol (1984) .... Balachandran (Advocate)
* Aayiram Abilashangal (1984) .... Devadasan
* Adiyozhukkukal (1984) .... Karunan
* Akkare (1984) .... Ismail
* Aksharangal (1984) .... Jayadevan (writer)
* Alakadalinakkare (1984) .... Anand
* Anithichuvappu (1984) .... George Kutty
* Ariyatha Veethikal (1984) .... Ravi
* Athirathram (1984) .... Tharadas
* Chakkarayumma (1984) .... Babu
* Edavelakku Sesham (1984) .... Jayadevan (Sub Inspector)
* Engane Undasane (1984) .... Gopikuttan Pillai
* Ente Upasana (1984) .... Arjunan
* Ethirppukal (1984) .... Kochu Baby
* Itha Innu Muthal (1984) .... Jayamohan (Advocate)
* Ithiri Poove Chuvannapoove (1984) .... Balagopalan
* Kanamarayathu (1984) .... Roy Varghese
* Koottinilamkili (1984) .... Krishnanunni
* Lakshmana Rekha (1984) .... Sukumaran Nair
* Mangalam Nerunnu (1984) .... Babu
* Manithali (1984) .... Zulfikar
* Onnanu Nammal (1984) .... Sethu
* Onnum Mindatha Bharya (1984) .... Achuthan Nair (M.D. Of a Hospital)
* Oru Kochukatha Aarum Parayatha Katha (1984) .... Dr. Surendran
* Pavam Poornima (1984) .... Jayaraj
* Sandhyakenthinu Sindooram (1984) .... Raghunathan (Teacher)
* Sannarbham (1984) .... Ravi
* Thirakil Alppam Samayam (1984) .... Antony
* Veendum Chalikkunna Chakram (1984) .... Jose
* Vetta (1984) .... Rathish (Sub Inspector of Police)
* Vikatakavi (1984) .... Usman (Driver)
* Eettillam (1983) .... Sivan
* Aa Rathri (1983) .... Ravi
* Adaminte Variyellu (1983) .... Jose (Architect)
* America America (1983) .... Ramesh
* Asthram (1983) .... Balu
* Chakravalam Chuvannappol (1983) .... Vasu
* Changatham (1983) .... Tony Francis
* Coolie (1983/II) .... Kunchali
* Ente Katha (1983) .... Babu
* Guru Dakshina (1983) .... John
* Himavahini (1983) .... Gopi
* Iniyenkilum (1983) .... Divakaran
* Kattaruvi (1983) .... Vasu
* Kinnaram (1983) .... Balachandran (Guest Role)
* Kodumkattu (1983) .... Musthafa
* Koodevide (1983) .... Captain Thomas
* Lekhayude Marnam: Oru Flashback (1983) .... Prem Sagar (Film Star)
* Maniyara (1983) .... Shameer
* Mansoru Maha Samudram (1983) .... Venugopal
* Marakkillorikkalum (1983) (uncredited) .... Man at the Park
* Nanayam (1983) .... Raju
* Nathi Muthal Nathi Vare (1983) .... Raju
* Onnu Chirikku (1983) .... Unnikrishnan
* Oru Madapravinte Katha (1983) .... Balachandran
* Oru Mukham Pala Mukham (1983) .... Muralidhran Thambi
* Oru Swakaryam (1983) .... Usman
* Pin Nilavu (1983) .... Unni
* Prathigna (1983) .... Hamsa
* Rachana (1983) .... Gopi
* Rugma (1983) .... Raghu
* Sagaram Santham (1983) .... Ananthan
* Sandhyakku Virinja Poovu (1983) .... Advocate Jayamohan
* Sesham Kazhchayil (1983) .... Jagadish (Swimming Coach)
* Theeram Thedunna Thira (1983) .... Madhu
* Visa (1983) .... Shereef
* Innalenkil Nale (1982) .... Rahim (Driver)
* Balloon (1982) .... Muthukoya
* Aa Divasom (1982) .... Sub Inspector Balachandran
* Amrutha Geetham (1982) .... Suresh (Inspector)
* Champalakadu (1982) .... Beeran